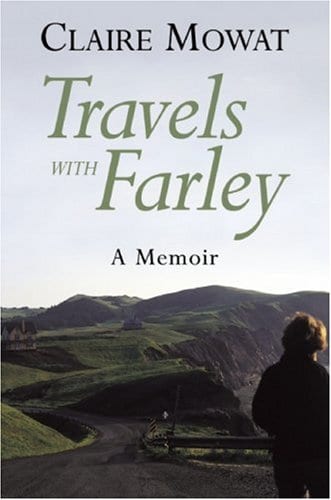 by James M. Fisher, The Miramichi Reader
Memoirs can be great fun to read, or they can be boringly self-indulgent. It all depends on the memoirist. In Claire Mowat's Travels with Farley (2015 Pottersfield Press), we have a surprisingly candid, friendly and concise memoirist as the late Canadian author Farley Mowat's wife takes us through a whirlwind tour of their years together from 1969 to about 1976, shortly after they left Newfoundland and to the time they settled in Cape Breton.
I found this book to be part memoir, part travelogue (since the Mowats moved and travelled extensively in those seven years alone) and part time capsule, since so much was happening in Canada (Trudeaumania, for example) and in the world: Vietnam, the Cold War, the Hippie era just to name a few. Ms. Mowat manages to create a seamless, flowing work that is actually difficult to put down even if you are not that familiar with Farley Mowat the author or the man. Their lives are filled with so much travelling, moving back and forth and entertaining friends all while trying to write books (Ms. Mowat is an author herself) that it all appears very exciting, especially to those of us who lead a relatively sedentary lifestyle.
As I mentioned earlier, the book is part time capsule in my opinion since it was written at a time when I was entering my teen years. As such, the places mentioned (like Port Hope, Picton and Toronto), events (FLQ crisis, Kent State) and people that pop up throughout the book are quite familiar to me.
In High School English class, we had to read and discuss Never Cry Wolf (1963)  and I had already read The Dog that Wouldn't Be (1957) a few years earlier. Sadly, that is the full extent of my Farley Mowat experience until I read this book. Claire concisely laments the reason why: "Prior to the 1960s Canadians who bought hardcover books at all generally chose the works of American or British writers. One reason English-speaking Canadians had difficulty defining ourselves as a nationality was that we rarely read books about ourselves by our own authors."
This was my personal experience; Canadian writers and their books just didn't seem interesting or exciting to a pre-teen/ teen in those years. Canadian books were thought of as boring compared to what was coming out of the US at that time. My bookshelves were filled with Somerset Maugham, Joseph Conrad, Stephen King, Joseph Heller, Tom Wolfe, Hunter S. Thompson and Kurt Vonnegut. I was also heavily influenced by Rolling Stone magazine and Esquire, so the emphasis was on American authors, not Canadian.
Back to the book. It begins with a move from the Newfoundland outport of Burgeo to the Magdalen Islands (French: Îles de la Madeleine) which are situated in the Gulf of St. Lawrence and are part of the province of Quebec. The prospect excites Claire:
"For four years, I had spent every working day in a windowless office at a job I didn't like. Would I have wished to return to that when I could be sharing an adventure in a remote place called Old Harry? Not bloody likely."
However remote and idyllic the islands appear, there are undercurrents that disquiet Claire. There is the English/ French divisions and the distrust of outsiders on their islands. Indeed, Claire gets to the point that she doesn't even like to go grocery shopping because of the constant stares and unfriendliness of the townsfolk. However, many good times are had, even a brief visit (by helicopter) of Pierre and Margaret Trudeau adds to the excitement of living there. However, as the years pass, Clare realizes that she cannot picture her and Farley growing old in the Magdalens: "Seven years earlier we had gone there full of high expectations but now I felt utterly disillusioned." It is at this time that they find a home on Cape Breton, where the neighbours are friendly and helpful, much to Claire's delight. In between, there are trips out west, a very fascinating and insightful trip to Greenland with Ed Schreyer (then Premier of Manitoba) and various places in between across Canada, usually in a small travel trailer.
Throughout the book Claire also introduces us to Farley's family, his father Angus (who is quite a character himself) and his girlfriend Barbara (with whom Claire has a difficult time befriending) as well as Farley's mother and his sons David and Sandy from a previous marriage. This is all very interesting too, for we see how Farley and Claire interact with family and how the family interacts with one another over the years. Winters were not spent on the Magdalen Islands, but primarily in Port Hope Ontario, so family becomes more of an issue during their returns to Ontario.
Conclusion
Even if you are not that familiar with Farley or Claire Mowat's previous titles, you will find this an extremely well-written and interesting read, particularly for those Canadians who grew up in the seventies. It is also a sort of time capsule in that the Magdalens were not a tourist destination at the time of the Mowats living there. There was only one paved road, no ferry service (although there was one by the time they left) and no real hotels or restaurants. Likewise in southeastern Ontario. Port Hope was not a very happening place like it is now with its revitalized historic downtown and preserved buildings. There was no 401 highway, and one had to drive or take a train to go anywhere. There was little TV (none on the islands) and radio and newspapers were the main sources of information. So the Mowats read, wrote, did gardening, associated with friends and family and travelled.
I have a feeling that there will be yet another follow-up memoir since this one ends so soon in their 56-year marriage. She has written two previous books about her and Farley, The Outport People and Pomp and Circumstance. Farley Mowat died in 2014 and Claire still lives in Cape Breton ("but that is another story" she hints in the epilogue). Thankfully, the epilogue brings us up to date on the people mentioned in the book, which gives the reader closure on this portion of the Mowat's lives together.
This 2015 edition has an introduction by Silver Donald Cameron and an afterword by Elizabeth May. Definitely recommended for Farley Mowat and CanLit fans.
Claire Mowat grew up in Toronto and has lived in Newfoundland, The Magdalen Islands and Nova Scotia. She published her first book, The Outport People, in 1983, the story of her married life in a small Newfoundland community. She is also the author of Pomp and Circumstance and three young adult novels: The Girl From Away, The French Isles, and Last Summer at Louisbourg.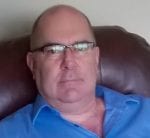 James M. Fisher lives in Miramichi. James is an ardent reader whose aim is to highlight New Brunswick authors and publishers, as well as cover subjects of interest to New Brunswickers in particular and Maritimers in general. For more visit his website or like his page on Facebook.